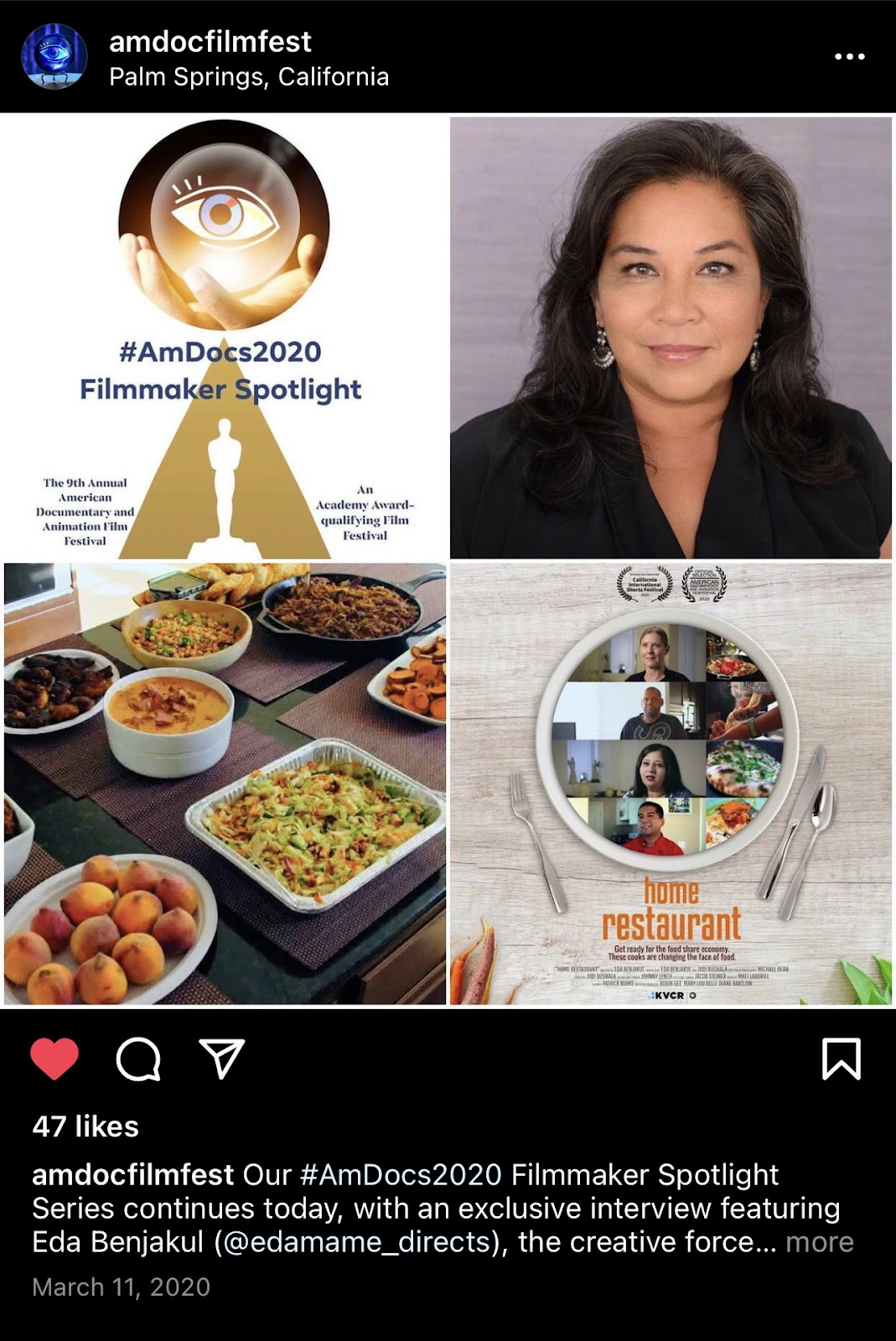 FILMMAKER SPOTLIGHT! Welcome to the 2nd installment of our #AmDocs2020 Filmmaker Spotlight Series. Over the month of March, we're introducing you to filmmakers coming to our 9th annual film festival and taking you behind the scenes with them. Our Social Media Director, Rob Rochholz, has been conducting interviews with an array of filmmakers from varied backgrounds and film genres, as excitement builds for this year's fest.
Today, we feature filmmaker Eda Benjakul, whose documentary, HOME RESTAURANT, will make its World Premiere on Saturday, March 28, at noon at the Camelot Theatres in Palm Springs. It is part of a 7-film block (all shorts) in Program 8 that includes HUNGRY, SOUP, ALCHEMY, SLOWLY, HOW WE EAT, and BREWED IN PALESTINE. Tickets for this film block may be purchased here: https://bit.ly/2W2jCZ2
—————
#AmDocs' Social Media Director Rob Rochholz: "Hi Eda, welcome to our festival, and congratulations on having your film, HOME RESTAURANT, selected."
Eda Benjakul: "Thanks, Rob!"
#AmDocs: "In reading your bio, you seem to have developed a love for food and restaurants at a young age. Tell us about that."
Eda: "Sure. When I was 12, my parents bought a Century 21 Real Estate Office, and converted it into one of Chicago's first Thai restaurants. This was their side hustle, since they both had day jobs; and it became a family affair, with me as the server and my younger brother and sister bussing tables. We had few customers, but once someone was brave enough to try the spicy dishes, we knew we had a repeat customer. One freezing cold December evening, as we were driving up to open the restaurant, there was a line; nearly a block long waiting for us to open the doors! The crowd was non-stop, we ran out of plates , tablecloths, and silverware. We found out later that evening that Thai Room Restaurant had been named one of Chicago's 10 Best Restaurants that year —alongside 2 of the best French restaurants in the country; and ours was the only family owned immigrant food restaurant. That experience gave me a new appreciation for my parents and our cuisine."
#AmDocs: "That's so interesting. So is that what inspired your film, HOME RESTAURANT?"
Eda: "Well, I'd always loved the idea of underground pop-ups and would attend them and sometimes help my chef friends in the kitchen. It had always been something I wanted to do, until I found out it was illegal and that's why they were always underground … because there was always that chance if you became too popular or didn't move the secret location from time to time, the pop-up would get shut down. Then in my research, I came across a bill — AB626 — that had just been signed, which made home restaurants legal. The catch was that each county had to have its own vote and health department inspections. Riverside, which was only about 1 hour from me in Los Angeles, had a vote coming up and I was introduced to Meghan Chanes, around the time she was going to appear before a Board of Supervisors meeting. This stay at home mom cook got the votes to make home restaurants a reality in Riverside County; and I believe it is going to change a lot of lives."
#AmDocs: "Your background involves producing some food competition shows for TV. Can you tell me more about that?"
Eda: "Yes, I started as a news producer for ABC Network. My path was to go documentary, but I landed in LA to cover the OJ trial; and after the trial, there was a boom in reality competition. I was hired by the production company that created 'Survivor' to work on what was then a new show, called 'The Apprentice' hosted by Donald Trump. And somehow, creating challenges was a natural fit for me, because how people handle challenges tells you a lot about them. Doing a food competition show is sort of the same —everything defines who you are when you cook. How you hold your knife; how you prep; what you cook; and your influences growing up. For a cook, food is how we define ourselves."
#AmDocs: "You've worked in both film and TV. Do you happen to prefer one over the other?"
Eda: "TV is more accessible to me. In the TV work I've done, there is a set format and structure, sort of like a road map. Film always seemed like a blank sheet of paper, amorphous. Like it could be anything you want it to be, or you could get totally stuck on the blankness of it all. Documentary though, is just observing. It uses my skills from interviewing from when I was in news; and it's letting people tell their story. You don't have to make anything up. It writes itself."
#AmDocs: "You may or may not know the answer to this, but I thought I'd ask: How real are most TV food shows? Shows like 'Next Food Network Star' or 'Chopped,' for example. Are there a lot of secrets the public never sees?"
Eda: "Often, now, shows will break that fourth wall with behind the scenes and interviews. There aren't a lot of secrets anymore, but maybe the biggest one is that failure makes for bad TV; so these amazing feats of baking and cooking you see on TV have been practiced and timed so that everyone knows what they're doing; they've done it before — no surprises. The mystery box ingredients will always be a surprise, but the technique of making something won't be."
#AmDocs: "We heard thru the grapevine that there may have been a glitch with a previous screening of your film, HOME RESTAURANT. Do you want to tell us about that? Did it turn you off of film festivals?"
Eda: "I had never really been to a screening of any of my short films. But because the cooks in HOME RESTAURANT lived in Southern California, I wanted to make sure I was there and we could screen it together. Also, I had been told that the film won Best Documentary Short, and I wanted to make sure the cooks had their red carpet moment because they are the reason the short won. It was so disheartening when the film would start and about a third of the way in, the audio wasn't synched. They tried to start it over 3 times and by the third time, I felt like it was torture for everyone in the theater. It was like this moment of dread for me every time it got to that point and just didn't synch. I asked the projectionist to just put everyone out of this misery and anxiousness. So, the great news is, HOME RESTAURANT has been re-cut — it's more in depth than previously, and will World Premiere at AmDocs."
#AmDocs: "Wow. I'm going to keep my fingers crossed that everything goes smoothly at our festival. So I'm assuming you are coming to Palm Springs for AmDocs 2020? Your film is part of what looks like a very interesting block of mostly food-related films."
Eda: "Yes! I am so excited for the home cooks to be serving their food at the Opening Night Gala reception (if all works out) and to be part of this foodie film block. I love a food story."
#AmDocs: "Yes, we haven't even made the official announcement yet that I know of. But it appears as though the home cooks from your film were selected by our festival director to cater our Opening Night Gala. I've seen some of their creations, and it looks like quite a special night for our attendees. Tell me about California bill AB626 and its effects. With Palm Springs being in Riverside County, your film seems doubly important for locals to attend."
Eda: "On so many levels, it is so exciting to premiere HOME RESTAURANT where it has the most impact because it is happening now in Palm Springs and Riverside County. Anyone can participate and help improve the health and economic development of your own neighborhood. And the idea of tasting food from all different cultures without being in a metropolitan area is just super cool. This is a movement and can really change how communities interact. Who knows — you might discover the next great restaurateur at one of these home restaurants."
#AmDocs: "I'm really into movie posters because I think they actually help sell a film and inspire people. Your poster for HOME RESTAURANT is eye-catching and one of my favorites. Did you know immediately what you wanted it to look like?"
Eda: "Thank you! That's so nice to say. I gave a copy of the film to a graphic designer I found on Fiverr, actually; and asked him to watch the film and create what it felt like to him. He nailed it on the first try."
#AmDocs: "He sure did. What's next on the horizon for you?"
Eda: "I'd love to see HOME RESTAURANT make it to festivals around the country and the world, because I think food is a common language and people who cook and eat share the same passion that is unmistakable. I'd love for people to be inspired and lobby their local governments to make home restaurants a reality in their communities. I've been dipping my toe in the scripted episodic world and I'm
working on a historical fiction project based on my family in 1960's Thailand that is a Sundance Episodic TV Lab finalist."
#AmDocs: "Great, so it sounds like we have a lot of things to look forward to from you. Thanks so much for this interview and we are very excited to bring HOME RESTAURANT to our audience this year."
Eda: "Thank you!"
————————–
We know audiences will enjoy Eda's film. Purchase tickets today at the link at the top of this post.
Watch for our next installment in our Filmmaker Spotlight Series later this week.